Events with Carolyn Ferrell, Joseph Fink, Kyle Lukoff, Isaac Fitzsimons, Dana Pollack, Jennifer Nissley, Abbey Rodriguez, Jennifer Kurdyla and more
Dear Friends of the Astoria Bookshop,
It's. Very. Hot. Outside.
Luckily, we'll be staying in the AC and you can too while attending this month's events from the comfort of your own home.
Join us for events like the launch of DEAR MISS METROPOLITAN with Carolyn Ferrell and Emily Raboteau on July 6th. Interactive Cook and Bake-a-long events with Dana Pollack for DANA'S BAKERY on July 16th and Abbey Rodriguez and Jennifer Kurdyla for ROOT & NOURISH on July 29th. A YA event with Jennifer Nissley and Laura Brooke Robson for THE MYTHIC KODA ROSE on July 13th. Another installment of The Shop Talk series with Aaron Aceves, Isaac Fitzsimons, and Kyle Lukoff on July 20th. And last, but definitely not least, a ticketed middle-grade event with Joseph Fink, of Welcome To Nightvale, for THE HALLOWEEN MOON on July 27th.
Check out the events calendar and get ready for all of the exciting events we have coming up for the rest of the summer.
Our storytime series with Gina is currently taking a pause. Keep an eye out on our socials when it comes back!
Carolyn Ferrell and Emily Raboteau for the launch of DEAR MISS METROPOLITAN
Tuesday, July 6th | 7:00 PM ET

Join us July 6th at 7 PM ET for the launch of DEAR MISS METROPOLITAN with author Carolyn Ferrell and Emily Raboteau.

Hosted on Youtube and Crowdcast. RSVP Here.

About DEAR MISS METROPOLITAN

Fern seeks refuge from her mother's pill-popping and boyfriends via Soul Train; Gwin finds salvation in the music of Prince much to her congregation's dismay and Jesenia, miles ahead of her classmates at her gifted and talented high school, is a brainy and precocious enigma. None of this matters to Boss Man, the monster who abducts them and holds them captive in a dilapidated house in Queens.

On the night they are finally rescued, throngs line the block gawking and claiming ignorance. Among them is lifetime resident Miss Metropolitan, advice columnist for the local weekly, but how could anyone who fancies herself a "newspaperwoman" have missed a horror story unfolding right across the street? And why is it that only two of the three girls—now women—were found? The mystery haunts the two remaining "victim girls" who are subjected to the further trauma of becoming symbols as they continuously adapt to their present and their unrelenting past.

Like Colson Whitehead's The Nickel Boys, Ferrell's Dear Miss Metropolitan gives voice to characters surviving unimaginable tragedy. The story is inventively revealed before, during, and after the ordeal in this singular and urgent novel.

About the Authors

Carolyn Ferrell (she/her) is the author of the short-story collection, Don't Erase Me, which was awarded the Art Seidenbaum Award of the Los Angeles Times Book Prize, the John C. Zachiris Award given by Ploughshares, and the Quality Paperback Book Prize for First Fiction. She has also received grants from the Fulbright Association, German Academic Exchange (D.A.A.D.), City University of New York MAGNET Program, and National Endowment for the Arts. Ferrell's stories have been anthologized in Best American Short Stories 2018 and The Best American Short Stories of the Century, among other places. She teaches writing at Sarah Lawrence College and lives in New York with her husband and children.

Emily Raboteau (she/her) is the author of the novel The Professor's Daughter and Searching for Zion: The Quest for Home in the African Diaspora, winner of the American Book Award. She is a regular contributor to the New York Review of Books and a contributing editor at Orion Magazine.  Her next book, Caution: Lessons in Survival, is forthcoming from Holt. She teaches writing at the City College of New York and lives in the Bronx.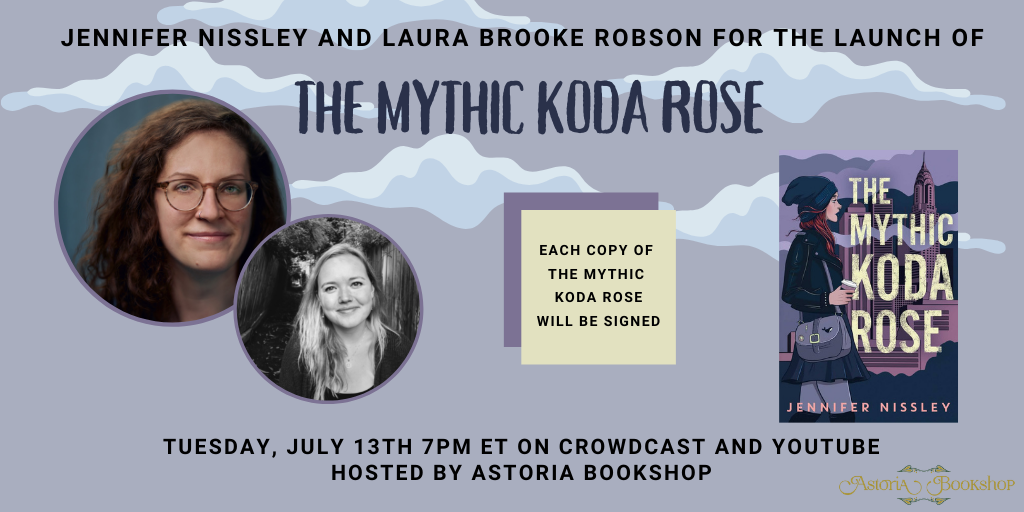 Jennifer Nissley and Laura Brooke Robson for THE MYTHIC KODA ROSE book launch
Tuesday, July 13th | 7:00 PM ET

Join us for the launch of Jennifer Nissley's debut contemporary YA novel THE MYTHIC KODA ROSE with Laura Brooke Robson.

Each copy of THE MYTHIC KODA ROSE will be SIGNED.

This event will be hosted on Crowdcast and Youtube. RSVP Here

About THE MYTHIC KODA ROSE

Everything Koda Rose knows about her father she's learned from other people. Moving to New York City with her mom won't change that, even if New York was Mack Grady's city—where he became famous, where he wrote his music, and also where he died.

Koda has more important things on her mind. Like how she's in love with her best friend, Lindsay, and doesn't have the courage to tell her. Agonizing over how to confess her feelings leads Koda to explore Mack's enigmatic history in search of answers. She tracks down her dad's band mate and ex-girlfriend, Sadie Pasquale, and finds herself becoming rapidly obsessed with the mercurial musician.

As Koda and Sadie's complicated bond deepens, they are both forced to grapple with the black hole Mack left behind, or get sucked in themselves.

About the Author

Jennifer Nissley (she/her) received her MFA in Fiction from Stony Brook University at Southampton. Although her first love is writing, she is powerfully attracted to video games, horses, and pretty much any piece of clothing or interior design with an animal on it. She lives in Queens with her wife and doggo, but sadly no horses.

Laura Brooke Robson (she/her) grew up in Bend, Oregon and moved to California to study English at Stanford University. She currently lives in Melbourne, Australia, where she enjoys drinking too much coffee and swimming in places she's probably not supposed to swim. GIRLS AT THE EDGE OF THE WORLD is her debut novel.
Bake-A-Long with Dana Pollack for DANA'S BAKERY
Friday, July 16th | 6:30 PM ET

Join us July 16th at 7 pm ET on Crowdcast and Youtube to bake with CEO and founder of Dana's Bakery, Dana Pollack. RSVP HERE

We will be making Cereal Cookies during the event. Grab your whisk, your ingredients (listed below), and join us!

Each copy of the book will come with a package of pre-measured cereal Lucky Charms to use in the recipe when ordered by 07/09.

As a trained pastry chef, Dana never fails to take classic, crave-able desserts to a whole new level— including her Mookies (a macaron baked inside a cookie) that people line up to try. Now, you can make them—and 99 other incredible desserts from Dana's collection—in the comfort of your own kitchen. Organized by flavor, including Cookie Dough, Death by Chocolate and Taste the Rainbow, there's a dessert for every craving.

About the Authors

Dana Pollack (she/her) is a trained pastry chef and the CEO/founder of Dana's Bakery, one of the first-ever online bakeries of its time. With a home base in NYC, they ship nationwide and work with clients such as Williams Sonoma, Whole Foods Market and 1-800-Flowers. Dana's Bakery has been featured by The New York Times, The Wall Street Journal, Good Morning America and other various nationwide publications.
SHOP TALK with Kyle Lukoff, Isaac Fitzsimons, and Aaron Aceves
Thursday, July 20th | 7:00 PM ET

Join us for a virtual discussion on writing and craft with our next panel in the SHOP TALK series with authors Kyle Lukoff, Isaac Fitzsimons, and Aaron Aceves!

This event will be streamed on YouTube and Crowdcast! RSVP Here

About Shop Talk

Oftentimes, writers from marginalized backgrounds are put on panels in which the sole focus is their identity. In this panel, writers will talk solely about the process of writing: character building, tone, structure, etc.

About TOO BRIGHT TO SEE

It's the summer before middle school and eleven-year-old Bug's best friend Moira has decided the two of them need to use the next few months to prepare. For Moira, this means figuring out the right clothes to wear, learning how to put on makeup, and deciding which boys are cuter in their yearbook photos than in real life. But none of this is all that appealing to Bug, who doesn't particularly want to spend more time trying to understand how to be a girl. Besides, there's something more important to worry about: A ghost is haunting Bug's eerie old house in rural Vermont…and maybe haunting Bug in particular. As Bug begins to untangle the mystery of who this ghost is and what they're trying to say, an altogether different truth comes to light–Bug is transgender.

About THE PASSING PLAYBOOK

Fifteen-year-old Spencer Harris is a proud nerd, an awesome big brother, and a David Beckham in training. He's also transgender. After transitioning at his old school leads to a year of isolation and bullying, Spencer gets a fresh start at Oakley, the most liberal private school in Ohio.

At Oakley, Spencer seems to have it all: more accepting classmates, a decent shot at a starting position on the boys' soccer team, great new friends, and maybe even something more than friendship with one of his teammates. The problem is, no one at Oakley knows Spencer is trans—he's passing.

But when a discriminatory law forces Spencer's coach to bench him, Spencer has to make a choice: cheer his team on from the sidelines or publicly fight for his right to play, even though it would mean coming out to everyone—including the guy he's falling for.

About the Authors

Aaron H. Aceves (he/him) is a bisexual, Mexican-American writer born and raised in East L.A. He graduated in 2015 from Harvard College and received his MFA from Columbia University. His fiction has appeared in or is forthcoming from jmww, Epiphany, and Them among other places. His debut YA novel, This Is Why They Hate Us, is coming March 29, 2022 from Simon & Schuster Books for Young Readers.

Isaac Fitzsimons (he/him) is the author of The Passing Playbook (Dial BFYR/PRH, 2021). He writes Young Adult fiction so that every reader can see themselves reflected in literature. A lifetime dabbler in the arts, he currently lives outside Washington, DC, and does research for an arts advocacy nonprofit in the city.

Kyle Lukoff (he/him) is the author of the middle grade novel "Too Bright To See," the Stonewall-award winning picture book "When Aidan Became A Brother," "Explosion at the Poem Factory," and many more. While becoming a writer he worked as a bookseller for ten years, and then nine more years as a school librarian. He lives in New York City, and hopes you're having a nice day.
Cook-a-long for the ROOT & NOURISH COOKBOOK with authors Abbey Rodriguez and Jennifer Kurdyla
Thursday, July 29th | 7:00 PM ET

Join us as we cook alongside the authors of the ROOT & NOURISH COOKBOOK for this extra special cookbook event. Abbey Rodriguez and Jennifer Kurdyla will be demonstrating how to make passionflower mocktails and avocado chocolate pudding.

This event will be hosted on Crowdcast and YouTube RSVP HERE

About ROOT & NOURISH

Did you know you have access to a potent and sophisticated apothecary—right in your own kitchen? Plants, specifically herbs and spices, have been used for centuries as part of holistic healing traditions around the world to promote health, longevity, and beauty. And as more people become afflicted with chronic stress-based conditions, from inflammation and food allergies to anxiety and depression and menstrual irregularities, a whole new generation is rediscovering nature's power for long-term wellness.

In Root & Nourish, wellness experts Abbey Rodriguez and Jennifer Kurdyla teach women how to incorporate plant medicine into everyday life through food and self-care. Organized into three areas of health concerns prevalent in women today—digestion, mental health, and female reproductive hormonal health—these affordable, seasonal, and sustainable recipes, drawn from Western herbalism and Ayurveda, are designed to help you curate a personalized herbal apothecary that will serve you for a lifetime.

About the Authors

Jennifer Kurdyla (she/her) is an Ayurvedic Health Counselor, yoga teacher, and writer. Plant-based since 2008, she learned to love food by experimenting with vegan and Ayurvedic cooking in her tiny New York kitchens. She is the co-author of Root & Nourish: An Herbal Cookbook for Women's Wellness (Tiller Press, 4/6/2021), and lives in Brooklyn, New York. Read more about her wellness services and educational resources at www.benourished.me and on Instagram @jenniferkurdyla

Abbey Rodriguez (she/her) 

is a Certified Holistic Nutritionist, herbalist, and food content creator. Over the last five years, she has been developing recipes for women and young families on her food and wellness blog, 

The Butter Half

. She is deeply passionate about the power of plants and nutrition, and teaching others about holistic wellness. She lives in Northern Virginia with her husband and three children. Visit her online at 

thebutterhalf.com

 and on Instagram: @thebutterhalf_.
Here it is, your moment of Zen:
[Alt text: Quincy, a small tri-colored Cavalier, kindly asks to be carried up the stairs after his long walk outside in the heat. He urges everyone to continue wearing masks in the bookshop and to get that vaccine!]
Until next time, be well (and be well-read!),
The Astoria Bookshop